Cocktails have become a staple of our parties, so why not make a special Christmas cocktail? In this article, we take a look at the origins of this barbaric word, and meet the owners of the House Gardencocktail bar , whohave agreed to share one of their recipes with us... with a wine base!
3 anecdotes to know about the origin of the word cocktail
Cocktail, what a strange word. If you look into its origins, it's hard to find a precise explanation. There are several theories, each more zany than the last.
Some say it's a contraction of peacock tail, referring to the color of the mix.
Another explanation is linked not to peacocks, but to horses. In order to differentiate between draught horses and thoroughbreds, draught horses used to be excised so that their tails would curl upwards. As a joke, the remaining tuft of hair was compared to a rooster's tail. In English, to cock up is called "to cock" and tail is called "tail". But what does this have to do with cocktails as we know them? The animal expression was later applied to men whose morals were deemed dubious, and then to alcoholic beverages made from a mixture of several ingredients and therefore considered bastard.
Finally, another legend has it that the word cocktail takes its origin from the name of an Aztec princess who created fabulous beverages. Her name was Xochitl...
The recipe for "Petit Bouchon" made in House Garden
House Garden is the new must-have cocktail bar in Paris's Charonne district. With Yann Salentin and Olivier Martinez at the helm, two enthusiasts who have been working in the restaurant business for over 10 years, you're sure to be in good hands!
The concept is simple: to offer low-alcohol signature cocktails (in line with the low ABV (alcohol by volume) trend) for responsible drinking that leaves room for seasonal flavours.
In this bar, almost everything is homemade, and when it isn't, you can be sure that the products are of the highest quality and come from small producers. What makes a House Garden cocktail different from any other cocktail? The homemade syrups and herbs that grow right in the bar, not to mention the personal touch of their creators!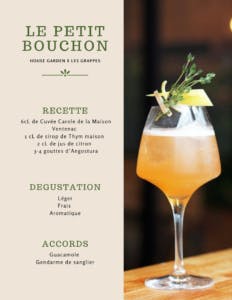 Discover the recipe for the Petit Bouchon made from a dry white wine: Cuvée Carole from Domaine Ventenac!