Choose your payment method
After confirming your cart and entering the delivery address, you will have to choose your payment method: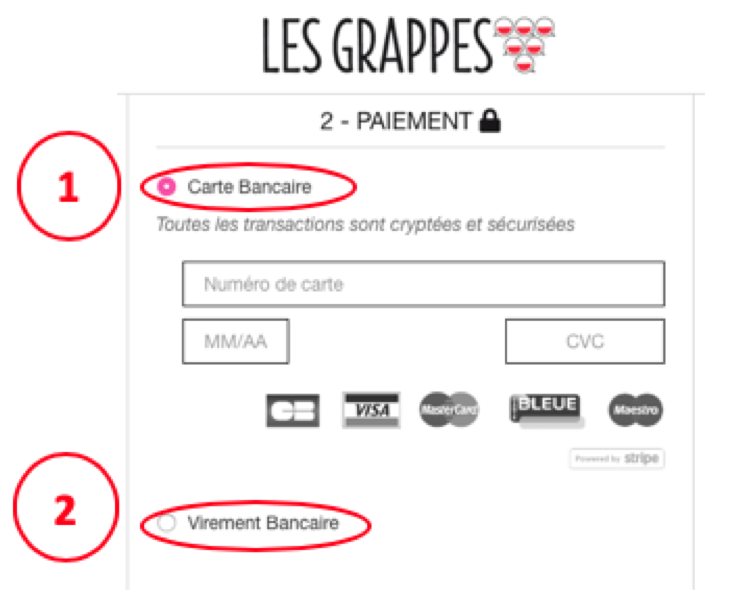 Two payment methods are available :
1. Secure credit card payment
Enter your payment information i.e. your credit card number, the expiration date of the credit card and the CVC (3-digit number on the back of the card).
Once you have confirmed the payment, you will receive a code by SMS or on your payment box, you will then have to enter this code to finalize the transaction. (This procedure is called 3DSecure verification)
Once the authentification is successful, the order is validated and a confirmation email is sent to you. Click here if there is an authentication failure.
2. Wire transfer payment
If you want to pay by cheque or bank transfer, you must select the payment method "bank transfer" and confirm your order.
When you confirm your order, our bank details will be displayed on the same page, you will also receive an email with our bank details.
Once the wire transfer has been received, you will receive an email confirmation of your order. You have 15 days to make a wire transfer to us before your order is automatically cancelled (be careful not to forget the 48/72h deadline for the transfer to reach us).
Our delivery commitment within 5 working days takes effect 24 hours after receipt of the transfer.
If you wish to pay by cheque, please send it to us at :
Order: VINOSAKA - Order No.
Address: LES GRAPPES, 2 Rue du croissant, 75002 PARIS.
The operation and deadlines will be the same as for the bank transfer.