Activity Details
Taste the 8 wines of the estate with plates of several local delicatessens, various cheeses and chocolate. The tasting is commented by the winegrower 6 different grape varieties
Further information
Duration of the activity :

1h

Payment of the activity :

Directly to the winery place

Motorhome parking :

Yes
The domain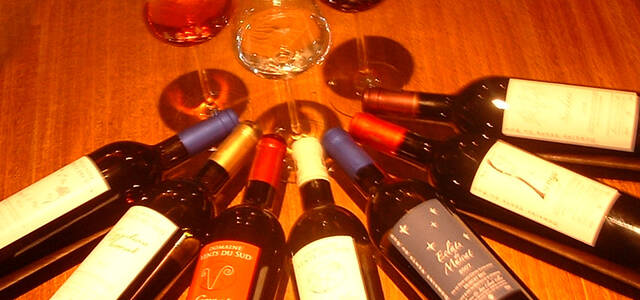 Domaine Vents du Sud
Domaine Vents du Sud comprises 13 very different plots located on the slopes at the edge of the garrigue and produce very typical wines. Harvesting is manual on red varieties such as syrah, grenache noir and white varieties such as grenache muscat mourvedre, macabeu. This makes it possible to sort the grapes and therefore not to add sulphites and yeasts to the vinification. Our objective is to move towards wines....
Domaine Vents du Sud
6 rue du stade
66600, Vingrau
Your reservation

Log in

Your details

Summary
Create an account with
My email
Reservation for people
and children
on behalf of :
Tél. :
For the at .
Enter your confirmation code
Edit my phone
A new code will be sent to you.
Your reservation has been taken into account.
You will receive an email once the winemaker has confirmed your reservation.
Thank you for your trust and enjoy your visit!
Out of respect for the winemaker, if you have an impediment, consider cancel your reservation on our site.
We will notify you by email & SMS if the winemaker cannot honor the reservation on the chosen date.