Activity Details
Visit of the estate and the cave cave (entrance and exit at 2 different places. We show the old workspaces, the barrels being matured, the vintages stored and full of other small features that make the charm of our cellars !) with tasting of 5 vintages: 1 Saumur blanc, 2 Saumur Champigny and 2 Crémants de Loire (or 2 Coteaux de Saumur - this can of course be adjusted according to the wishes of the customers)
Further information
Duration of the activity :

0h45

Payment of the activity :

Directly to the winery place

Handicap access :

Yes

accepted animals :

Yes

Children's area :

Yes

Motorhome parking :

Yes
The domain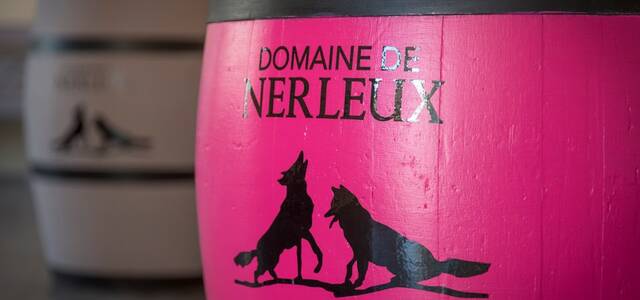 Domaine de Nerleux
The Domaine is located in the lands of Saint Cyr en Bourg, next to Saumur. It is a family property that covers 50 hectares. Domaine de Nerleux will charm you with its buildings and especially with its terroirs of tufa, the limestone rock of our region but also an essential component of our underground world. Generous, it has the ability to absorb excess water to return it at the most appropriate times and thus give you the opportunity to...
Domaine de Nerleux
4 rue de la paleine
49260, Saint-Cyr-en-bourg
Your reservation

Log in

Your details

Summary
Create an account with
My email
Reservation for people
and children
on behalf of :
Tél. :
For the at .
Enter your confirmation code
Edit my phone
A new code will be sent to you.
Your reservation has been taken into account.
You will receive an email once the winemaker has confirmed your reservation.
Thank you for your trust and enjoy your visit!
Out of respect for the winemaker, if you have an impediment, consider cancel your reservation on our site.
We will notify you by email & SMS if the winemaker cannot honor the reservation on the chosen date.