Activity Details
Discover a unique food and wine tasting in Alsace Come and taste Alsatian homemade specialities, or from our Master Chef Restaurant! Directly in our tasting cellar with our Alsatian Wines! A little Mouth-to-Mouth: Grilled Kouglof with a Duo of Crémant Fresh Alsatian foie gras and Berawecka chutney, served with a Gewurztraminer Grand Cru Sauerkraut and Strasbourg sausage salad, served with our finest Riesling Delicately matured Alsatian Munster and Gewurztraminer Selection Small Christmas shortbreads, Emma Horcher style and a glass of Late Harvest Pinot Gris
Further information
Duration of the activity :

1h30

Payment of the activity :

Directly to the winery place

Handicap access :

Yes

accepted animals :

Yes

Children's area :

Yes
The domain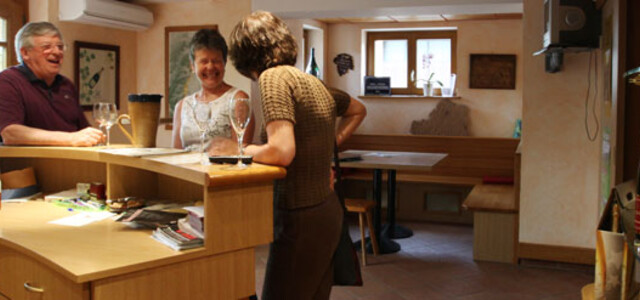 Domaine Horcher
Located in the heart of Alsace between Riquewihr and Colmar, the Horcher family estate finds its passion in the vineyard and wine. Thanks to its multiple soils, for each of their vintages they always emphasize the terroir, from the manual harvest to the ageing of their wines in small vats.
Domaine Horcher
6 rue du Vignoble
68630, Mittelwihr
Your reservation

Log in

Your details

Summary
Create an account with
My email
Reservation for people
and children
on behalf of :
Tél. :
For the at .
Enter your confirmation code
Edit my phone
A new code will be sent to you.
Your reservation has been taken into account.
You will receive an email once the winemaker has confirmed your reservation.
Thank you for your trust and enjoy your visit!
Out of respect for the winemaker, if you have an impediment, consider cancel your reservation on our site.
We will notify you by email & SMS if the winemaker cannot honor the reservation on the chosen date.