Activity Details
The immersion in the world of wine and gastronomy is total with a visit to the cellar and the vineyard surrounding the Grand-Père Jules estate. This will be followed by a tasting of our wines with a discovery of organic winemaking and the specificities of the Côtes du Rhône appellation, given by the winemaker Xavier. You will then have the pleasure of meeting our chef Sylvie who will offer you a real Mediterranean cooking course. The choice of recipes being developed according to the local market and seasonal products, you will discover the theme of the course on the day. You will not only be able to taste the dish or dishes made, but also learn to match them as well as possible with a wine. You can then sit at the table of the Restaurant la Tuilerie, to conclude the day with a tasty and friendly meal. For a long and total experience, we propose you to stay in a modern and fully equipped cottage (see our announcement called "Beautiful cottage in Provence"). Breakfast the next morning is also included.
Further information
Duration of the activity :

0h

Payment of the activity :

Directly to the winery place

accepted animals :

Yes
The domain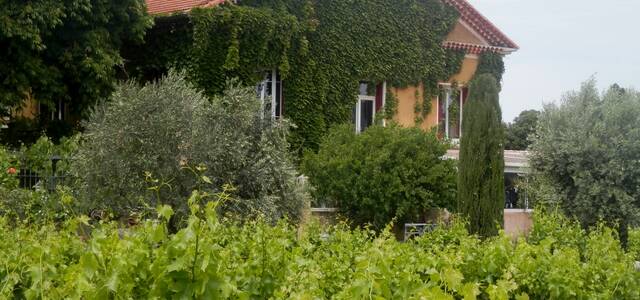 Domaine Grand Père Jules
Located in the heart of the vineyard with a breathtaking view of the Dentelles de Montmirail, Domaine Grand-Père Jules has perpetuated its passion for wine for four generations. In order to closely follow the evolution of the market but also a strong environmental ethic, the vineyard has evolved considerably over the last fifteen years. Through both the acquisition and sale of plots of land, we have constantly sought a balance between pr...
Domaine Grand Père Jules
786 Chemin de la tuilerie
84150, VIOLES
Your reservation

Log in

Your details

Summary
Create an account with
My email
Reservation for people
and children
on behalf of :
Tél. :
For the at .
Enter your confirmation code
Edit my phone
A new code will be sent to you.
Your reservation has been taken into account.
You will receive an email once the winemaker has confirmed your reservation.
Thank you for your trust and enjoy your visit!
Out of respect for the winemaker, if you have an impediment, consider cancel your reservation on our site.
We will notify you by email & SMS if the winemaker cannot honor the reservation on the chosen date.