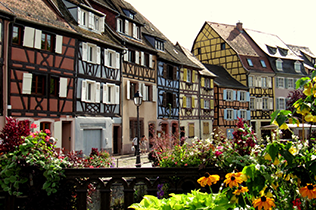 Alsatian Wines
See all Alsatian Winemakers
It is In Alsace that the oldest wine in the world is hidden, a wine that has been hidding in Strasbourg since 1472. It is no wonder that Alsace is home to great wines that are well-known around France, which offer a wide range of aromas and flavors of exotic fruits, apricots and citrus fruits. The Alsatian vineyard has one peculiarity: its cold and dry climate as well as its terroir allows to harvest grapes in a delayed way for instance. Some winemakers who follow these late harvests offer us mellow and very fruity wines.
En savoir plus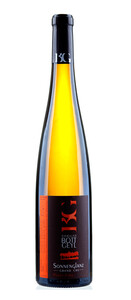 Jean-Christophe et Valérie Bott
Domaine Bott-Geyl
Alsace
- Alsace Grand Cru
Bottle 75cL
The grape variety in Alsace (Sylvaner, Pinot Blanc, Riesling, Muscat, Pinot Gris, Gewurztraminer and Pinot Noir) makes it possible to combine different wines that pair with each of your dishes. For gourmets, we would suggest combining these wines with desserts such as pineapple carpaccio. Gewurztraminer, one of the mythical white wines of the appellation, is a round and gourmet wine that goes well with sweet food. If you prefer salty dishes, we would recommend a Pinot Gris to accompany a stuffed poultry. Riesling, on the other hand, unfolds its aromas with fish and other delights of the sea. Throughout the year, the wine-growing villages of Alsace come to life around wine festivals (wine fairs), grape harvests, Alsatian traditions and gastronomy such as "choucroute"; in fact, people eat sauerkraut that is more acidic than in the rest of France, and this is precisely due to the fact that it is sprinkled with Riesling, a typical wine of the region that brings acidity and taste to this popular dish.
The richness of Alsace's heritage makes it possible to discover a route of the most atypical wines, hiding ancestral know-how and excellence. A fascinating road, alive and secret at the same time, known all over the world and lying between vineyards, beautiful villages and steep trails. Be ready to discover preserved vineyards, breathtaking landscapes and a beautiful conviviality.
Alsace is a region known for its exceptional wines. Aromas and tastes of apricot, citrus and exotic fruits make its products stand out from other French producers. Another particularity of the region is that it is home to the oldest wine in the world. Enough reason to want to visit the vineyards of Alsace.
The vineyard of Alsace, a wide area
Located between the plain of the Rhine and the Vosges mountains, the Alsace vineyard is a narrow strip of land. It has a production area of 15,600 hectares. It extends over 119 communes and produces 1.5 million bottles every year.
The Alsace vineyard benefits from a temperate continental climate. The presence of the massif on the west protects the grape fields from wind and rain. As the years go by, this region is therefore entitled to long autumns, cold winters, warm springs and dry summers.
The different appellations of the Alsace vineyards
Alsace wines benefit from numerous AOCs (Appellations d'Origine Contrôlée). Its annual production is divided between 80% AOC Alsace, 17% AOC Crémant and 4% AOC Grands Crus. The different drinks are made from 7 particular grape varieties: Muscat, Riesling, Gewurztraminer, Sylvaner and the white, black and grey Pinots.
The name of the grape variety (Chasselas, Muscat, Sylvaner...) is given by the labels of the Alsace appellations. Alsace wines with the appellation Grands Crus appeared in 1975. The Crémant d'Alsace appellation was created in 1976. It concerns sparkling, white and rosé Alsatian wines. This category of drink is obtained from the grape varieties pinot noir N, pinot blanc B, chardonnay B etc..
A visit of the region's estates to get to know the vineyard better
To find out more about Alsatian wines, there is nothing better than visiting one or more estates. Here are just a few places to know. They are also perfect for buying Alsatian wines.
It is between Riquewihr and Colmar that you will find the Domaine Horcher. Since 1981, it has been producing crémants d'Alsace. Take the opportunity to learn more about this product and its manufacturing techniques. 
You can also stop by the Frey-Sohler House. This family business is located in Scherwiller. It sells a Grand Cru and the local Scherwiller appellation.
Match Alsatian wines with the right dishes
The various wine appellations produced in Alsace go perfectly with certain regional preparations. If you like dry wine, opt for Riesling. It can be enjoyed with a seafood platter, salmon, but especially with sauerkraut or baeckeoffe.
Would you like to prepare an appetizer or eat spicy food? Think about Gewurztraminer. Full-bodied and fruity, it goes well with foie gras or cheeses such as Roquefort or Munster. 
Add a fruity touch to your dishes to enjoy tabbouleh or various cold meats. The Sylvaner is perfect for this. It can also be served with sauerkraut.
You now have an idea of food and wine pairings to help you make the right choices when buying Alsace wines from Les Grappes.